Trailer type driveway Asphalt regeneration pothole hole filler patch machine for sale in Australia
cnmc06 Multi-functional road maintenance equipment ,quite powerful with 3main functions integrated in one vehicle equipmentIt is one comprehensive maintenance vehicle which can realize various types of maintenance works for multiple occasions and multiple roads conditions ; it has high curing strength, low cost, fast and flexible operation, high safety and high efficiency, and can be operated 24 hours a day. It is widely used in the maintenance and construction of highways, municipal roads, national and provincial trunk roads, rural roads, factories road and other roads conditions.

Product image :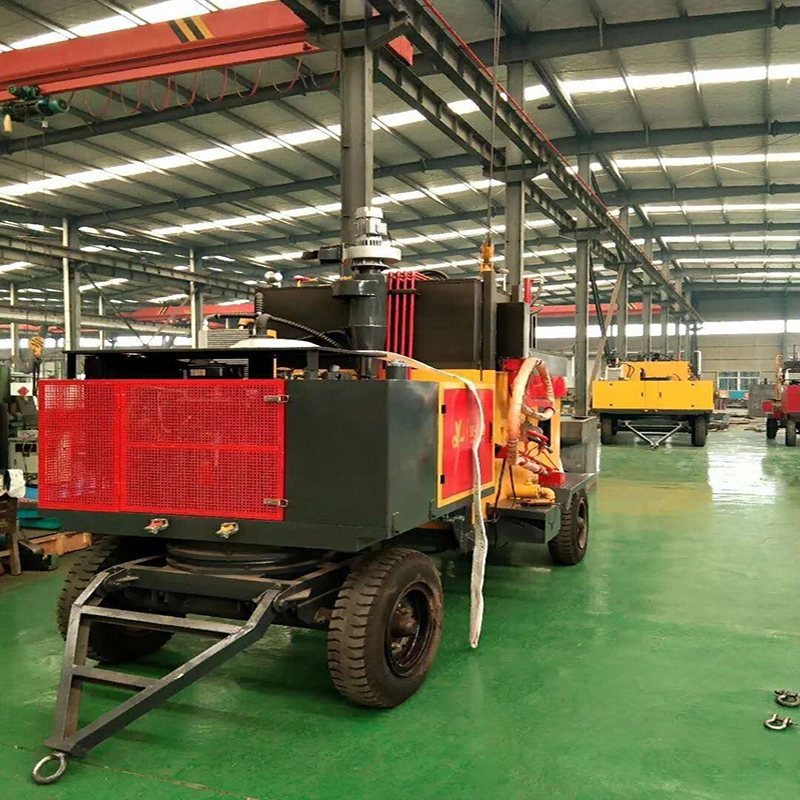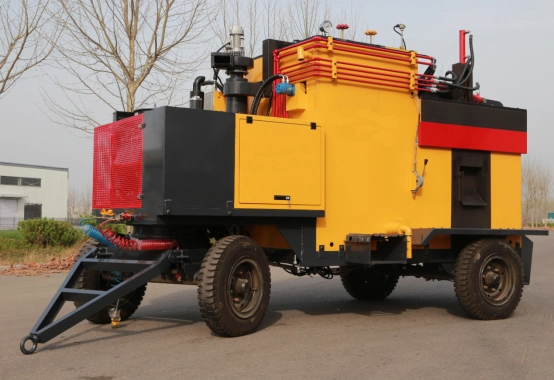 Specification:

Item

Parameter

Mixing tank mixing form

Hydraulic forced vertical forced mixing

Mixing tank volume

650kg

Stirrer Burner Power

310kw

Loading mechanism

Hydraulic driving loading

Hopper volume

250kg

Hydraulic system rated pressure

16mpa

Output

2

-

4

t/h

Fuel consumption

4-6

L

/

T

Discharge temperature control range

120-180ºC

Asphalt tank volume 800L

800L

Asphalt metering box volume

25L

Asphalt burner power

60kw

Asphalt heating time

800L/2-3h

Asphalt temperature

120-180ºC

Hand spray asphalt speed

10-50L/min

Rated flow of hydraulic system

55L/min
Product function introduction:
1) Has a complete asphalt pavement disease treatment function, which can deal with a variety of diseases such as pits, cracks, bales, ruts, pitted surfaces, loose, waves, oil flooding, and hemming.
2) It has four functions: on-site production of new asphalt mixtures, on-site thermal regeneration of asphalt pavements, asphalt spraying, and crack filling and cracking. It can also provide hydraulic power for other hydraulic devices.
3) Various maintenance operations on multiple occasions and pavements can be realized; high maintenance and repair intensity, low cost, fast, flexible, safe and efficient operation, can be operated 24 hours, and can be widely used in highways, municipal roads, national Provincial trunk roads, rural roads, plant areas and other road maintenance construction.
4) With excellent thermal regeneration function, the recycling rate of the old asphalt pavement can reach 100%. The waste and old asphalt material excavated from the pit can be regenerated 100% on site. It has larger output, higher efficiency, lower construction cost, outstanding energy saving and environmental protection performance.
5) Adopt vertical mixing and indirect heating technology for thermal regeneration of old pavement or production of new asphalt mixture to ensure that the asphalt does not burn during the regeneration of old materials and the aggregates and fillers do not segregate during the production of new materials.
6) Recycling rate of waste and old materials is 100%. No new materials can be added to the old materials, and any proportion of new aggregate or hot asphalt can be added. The asphalt measurement is accurate. The excavated or milled pavement waste is directly added to the mixing bin without crushing, and can be discharged in five minutes. Convenient heat regeneration, high efficiency and energy saving.
7) Asphalt pump and all asphalt pipelines are built-in type, no need to clean after use.
8) Adopt high-efficiency exhaust gas secondary utilization heating technology, high-efficiency dust removal technology, smokeless and dust-free, energy saving and environmental protection.
9) Adopt full hydraulic drive, stable and reliable operation.
10) Adopting the rear loading and side discharging design scheme, the mixture can be directly poured into the pit, which is convenient to use and reduces the road occupation during construction.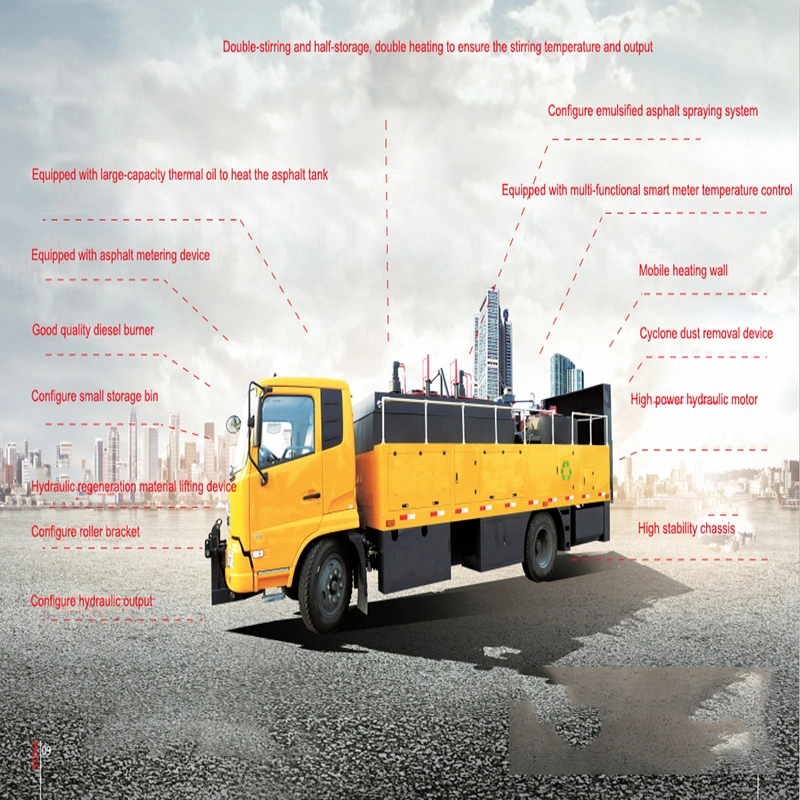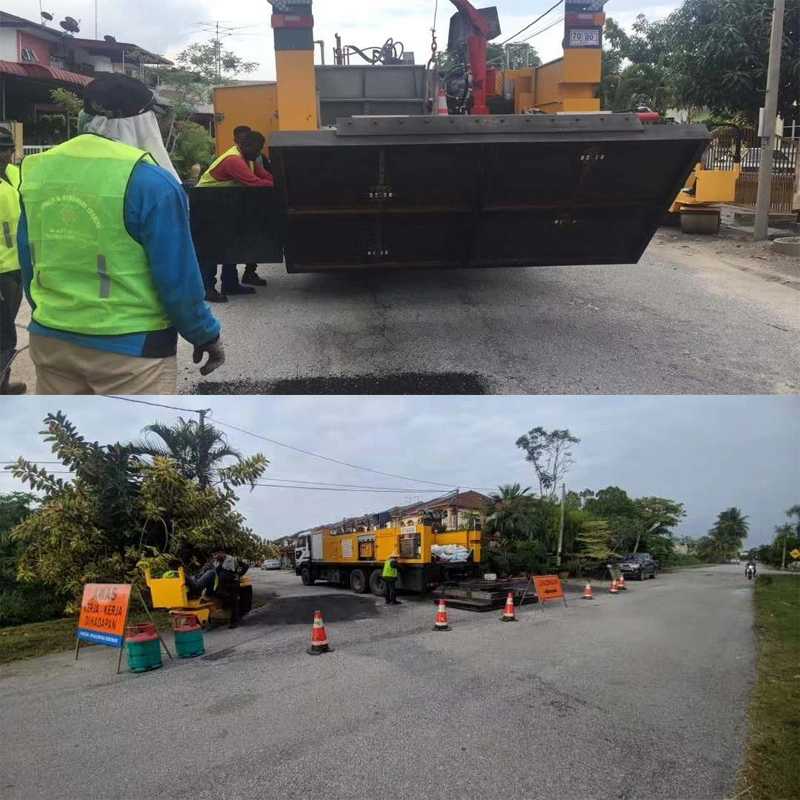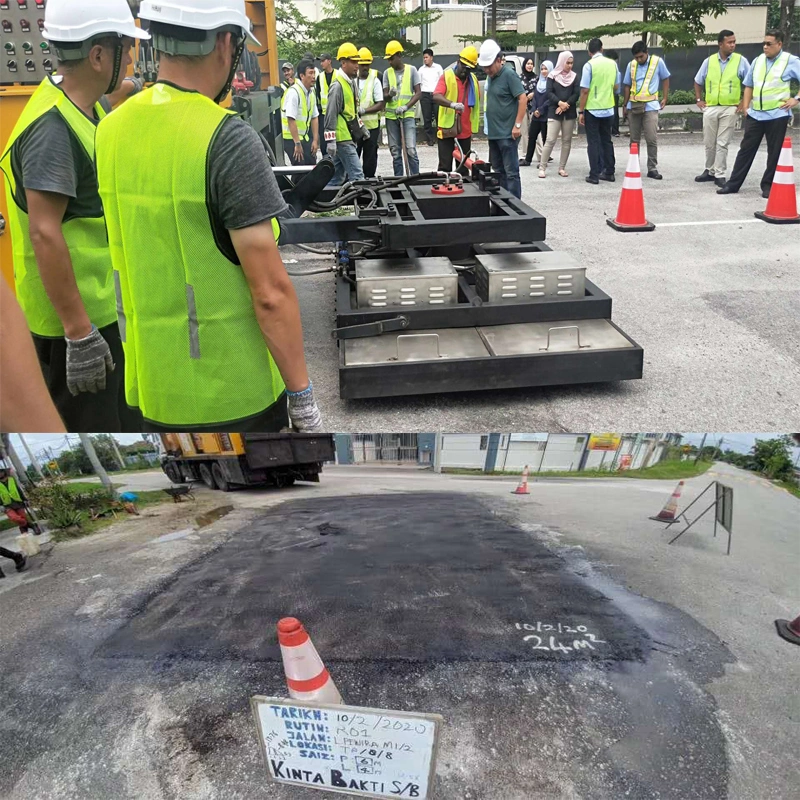 Contact us :