Offer Qt4-30 Manual Hydraulic diesel Concrete Brick Making Machine Cement Paving Block Machine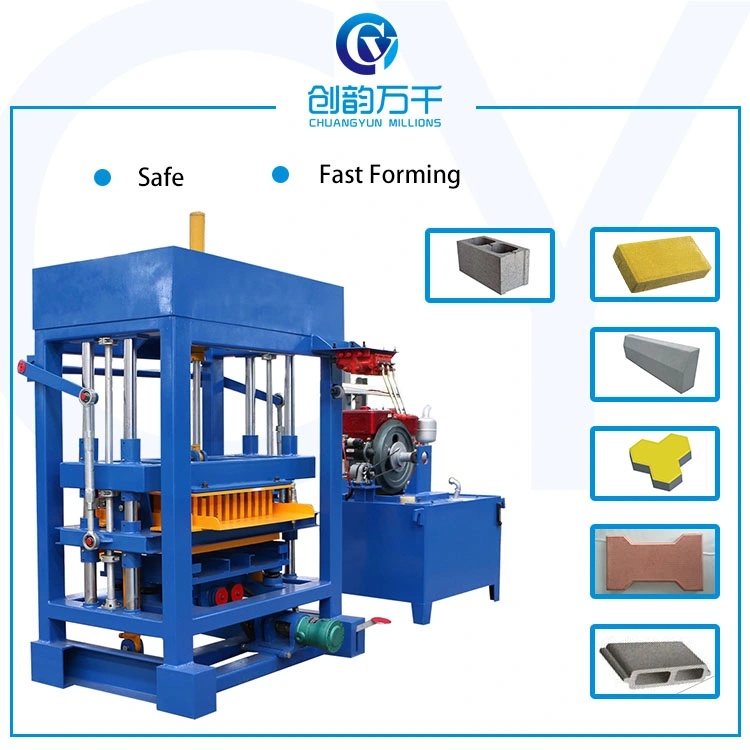 1. Advantages:
1. Diesel Engine Power (Electric Option Available)
2. Hydraulic Press, High Strength of Block and Colored Paver
3. Produce sizes of hollow block, solid brick, hourdis, interlocking paver and curbstone by changing molds
4. Suitable For Medium and Small-Scale Block Factory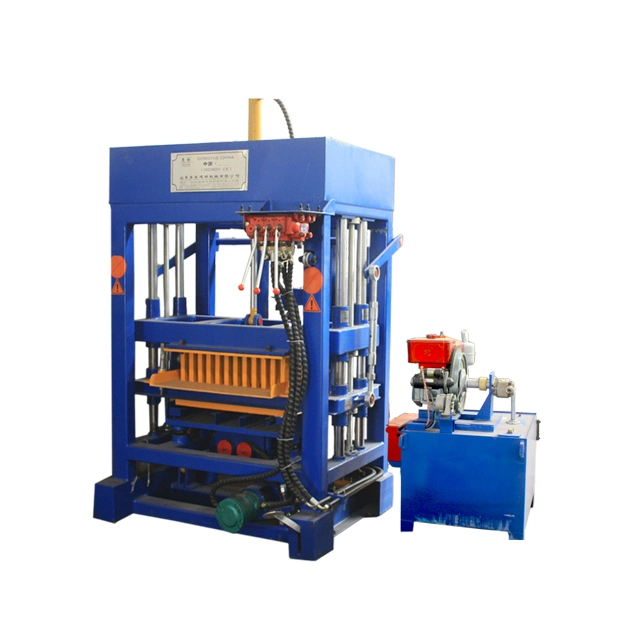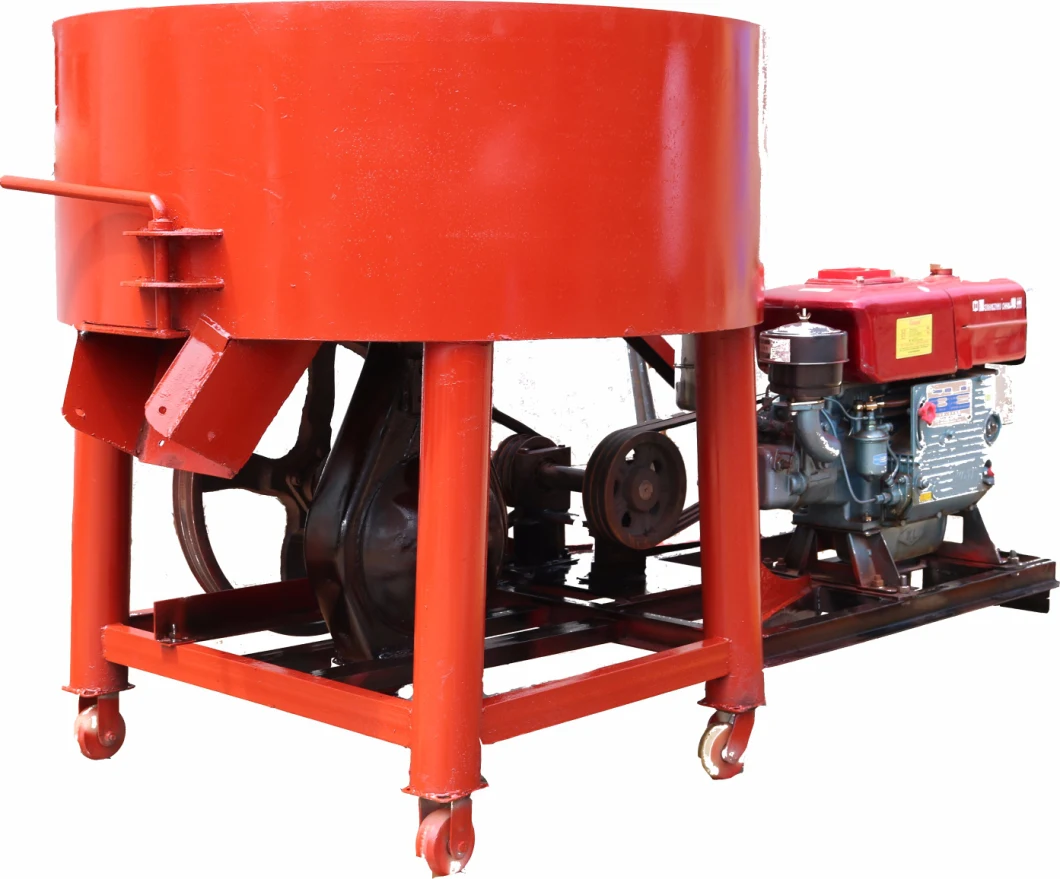 2. Electric Power List of QT4-30 diesel engine hydraulic cement brick making line
No.
Name of Machine
Power
Description
A
QT4-30 Block Machine
15HP
1. Diesel Power: 15HP
2. Oil Consumption 3L/Hour
3. Hydraulic Press: 21MPa
4. Pallet Size: 850*550*20mm
B
JQ350D Diesel Mixer
10HP
1. Diesel Power: 10HP
2. OIl Consumption: 2L/Hour
3. Capacity; 350L
Barrows
Without
Carry fresh block to curing sites
Total: QT4-30 block making line total power is 20HP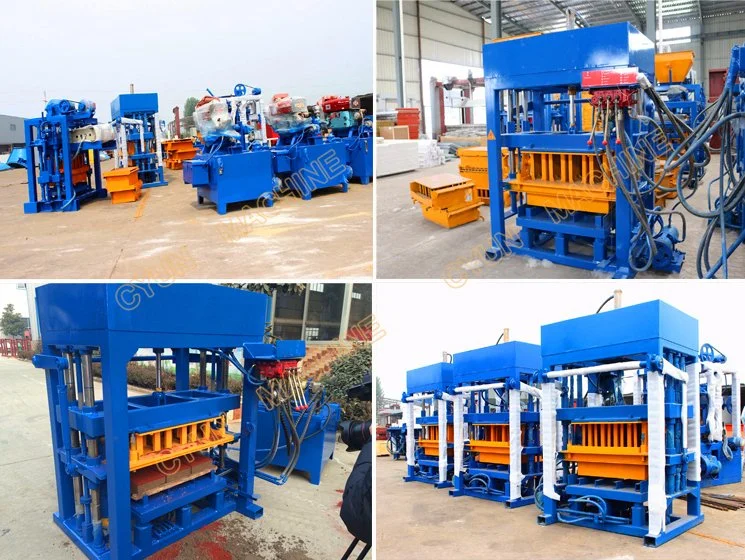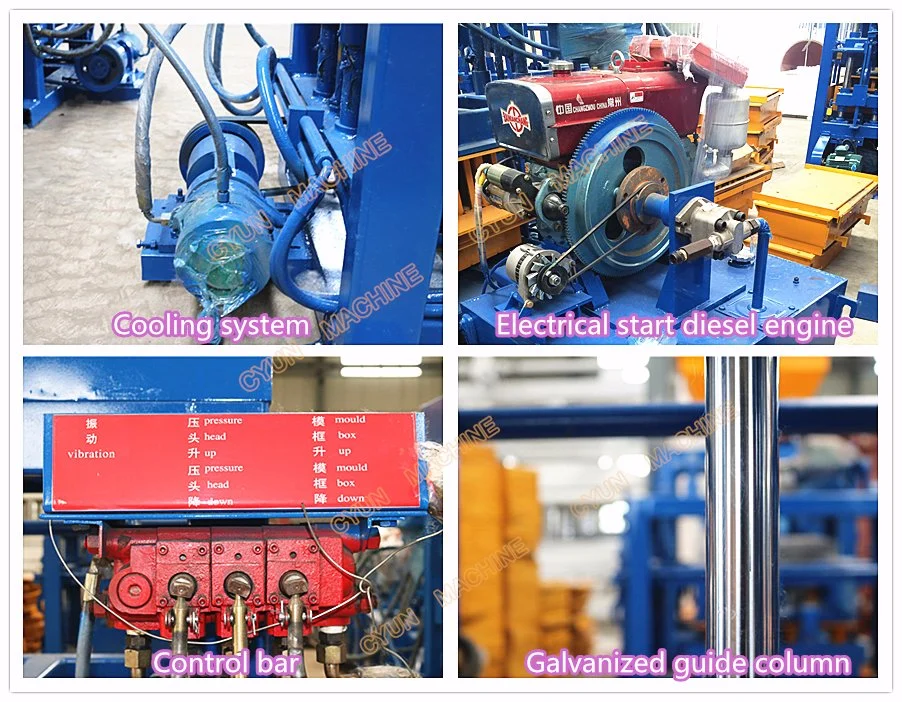 Main technical parameter
QT4-30 diesel hydraulic paving block machine technical parameter
Dimension of host machine

1440x1330x1720 (LxWxH)

total machine power

13.34 kW(18.0 HP) 2200 r/min

cycle per mould

30s

Dimension of diesel engine hydraulic station

1400x900x1320mm (LxWxH)

Diesel engine specification

Changchai ZS1105

Weight

1300KGS

Pallet size

850x450x25mm

Block type

b

lock, paver, curbstone and so on

Oil consumption

2L/H

Diesel engine starting mode

Electric start

Rated pressure

15Mpa

Vibration force

30KN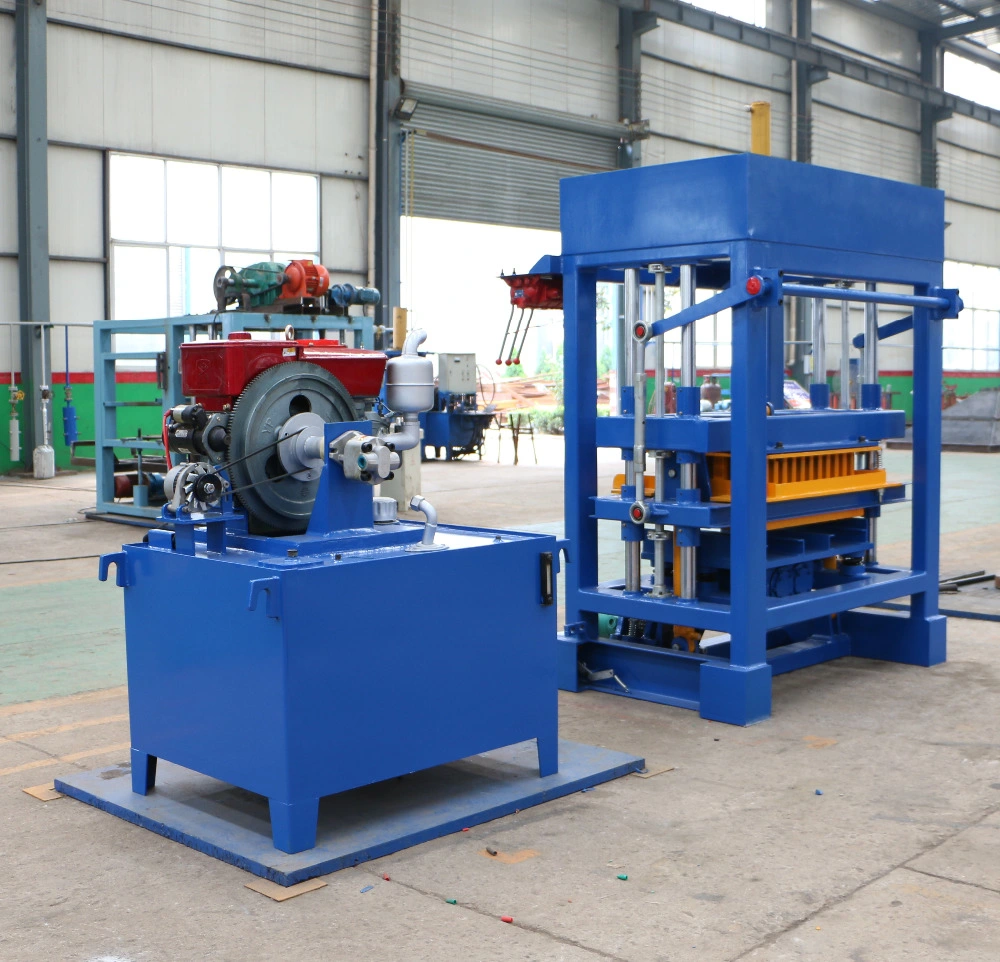 Theoretical production capacity

The machine can change moulds to produce different sizes of concrete blocks and paving blocks by changing moulds. Paver block with color face also available. Here are some products.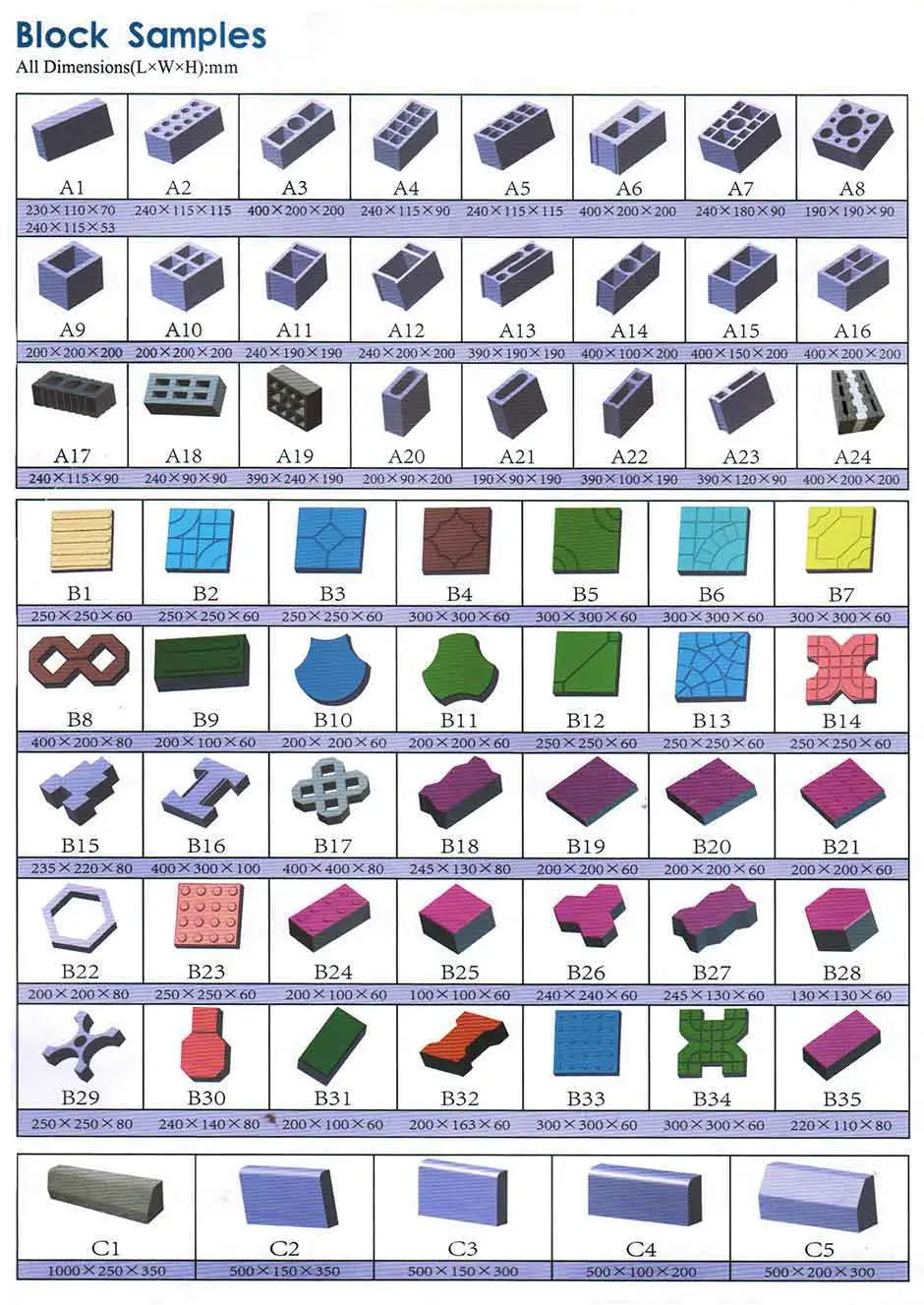 | | | | |
| --- | --- | --- | --- |
| Size(LxWxH) | Pcs/Mould | Pcs/Hour | Pcs/Shift |
| 400x200x200mm hollow | 4 | 480 | 3840 |
| 400x100x200mm hollow | 7 | 840 | 6720 |
| 400x150x200mm hollow | 5 | 600 | 4800 |
| 400x250x200mm hollow | 3 | 360 | 2880 |
| 200x160x60mm paver | 12 | 1440 | 11520 |
| 245x130x60mm paver | 9 | 1080 | 8640 |
| 200x100x60mm paver | 16 | 1920 | 15360 |
| 415x300x100mm curb | 2 | 240 | 1920 |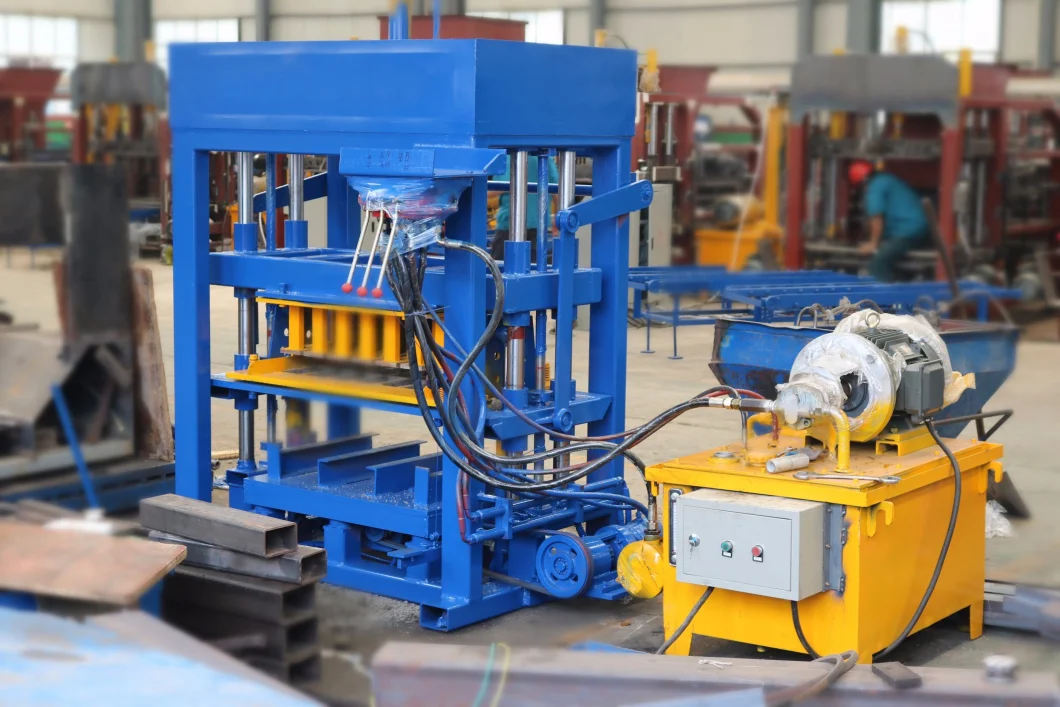 3. Worker Numbers : 4-5 Workers
Two Workers to load material into mixer
One Worker to operate block machine and add pallet to block machine
One or Two Workers to carry fresh blocks to curing sites.

4. Factory Area for QT4-30 cement brick making line: 600-1000M2
Shelter for Machines: 30M2 (6*5mm)

5. Pallet Number: 600pcs pallet for QT4-30 diesel hydraulic hollow brick machine.
Bamboo pallet, fiber (GMT) pallet and PVC pallet are available. According to Experiences and Feedback from our customers, we recommend you the Fiber Pallet: