I. What is hydroponics


Hydroponics, simply defined, is the growing of plants in a water and fertilizer solution containing the necessary nutrients for plant growth. The word was derived from two Greek words, hydro, meaning water, and ponos, meaning labor, or literally, water working.
II. The advantage of hydroponics
- Save land. You can plant anywhere , even on the roof top
- Save water
- Save labor
- Save fertilizer
- Save pesticide
- High production
- High product quality and more safety
- Product harmony
- All the growing conditions can be controlled.
III. Types of hydroponics systems
In commercial production, the two primary hydroponics growing methods are
NFT (Nutrient Film Technique) and substrate. The biggest difference between the NFT and substrate systems is the use of a growing medium.
- NFT (Nutrient Film Technique) System
In an NFT system, the plants are grown in channels which the nutrient solution is pumped through. The plan roots are kept moist by the thin film of nutrient solution as it passes by.
NFT is idea for shorter-term plants and crops such as lettuce and some herbs.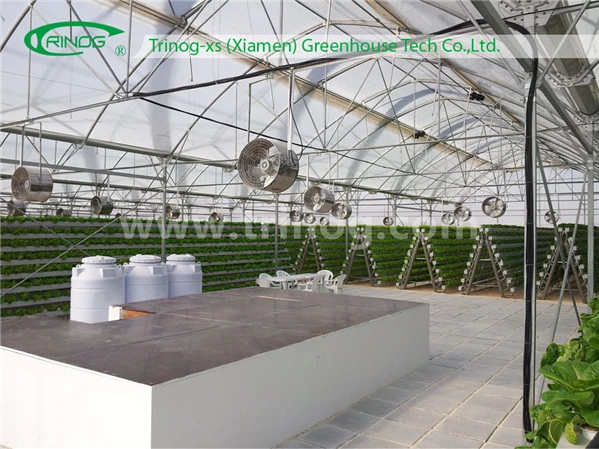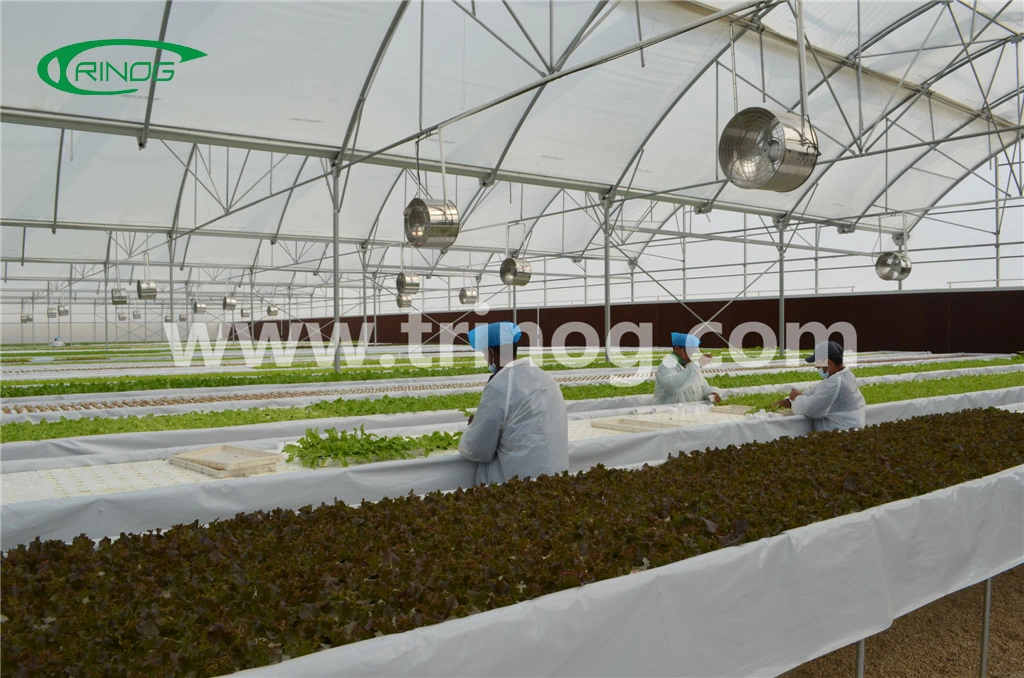 Substrate System
In this system, the nutrient solution is delivered to the plants through drip emitters on a timed system. The drip cycle flushes the growing medium (rockwool, perlite, etc), providing the plants with fresh nutrients, water and oxygen.
Substrate system is often used to grow long-term plants - such as tomato plants.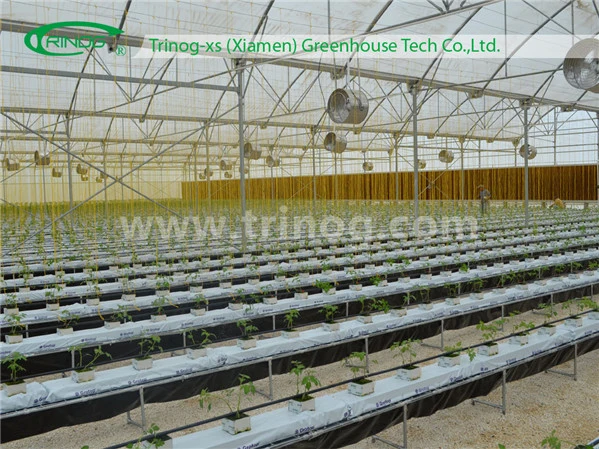 IV. We can provide customized complete hydroponics growing solutions for you!
1. Project planning & design
2. Modern greenhouse facilities & equipments
3. Intelligent control system
4. Hydroponics cultivation facilities (growing beds, growing gutters, etc)
5. Water & fertilizer management system (irrigation system and precise fertilization system)
6. Materials (seeds, substrate, nutrient solution, etc)
7. Hydroponics growing technology support & training
V. Company Introduction:
Trinog-xs (Xiamen) Greenhouse Tech was founded in 2004. Our company specializes in greenhouse design, development, assembly, and distribution. We also provide customized complete hydroponics growing solutions, and affordable pre-fabricated housing solutions for different needs (residential houses, warehouses, and packaging workshops, etc).



Our technology development center is operated by a highly proficient team of professionals. These talented individuals are tasked with the design of new products and optimization of existing models. They can also provide custom solutions.



We are presently headquartered Xiamen city, an international container port city. Our 250,000M2 production base is situated in Changtai County, a 40-minute drive from Xiamen. Our operating staff includes 200 employees. Their dedication has allowed us to successfully pass the ISO9001 certification.



As an export-oriented enterprise, more than 90% of our greenhouse projects have been
placed overseas. Our products have sold in more than 60 countries, including Angola, Australia, Cyprus, Egypt, Japan, Indonesia, Italy,

Kenya, Peru, South Africa, Sudan, the US, Uzbekistan, etc.



Our finished projects include the

10-hectare

hydroponic

project for the Kingdom of Bahrain and the one-hectare hydroponic greenhouse for the Abu Dhabi royal quarters within the UAE. Thus far, all of our engineering projects have received the approval of satisfied customers.
VI. Contact us:
You are welcomed to contact us for your inquiry and for more information.
Trinog-xs (Xiamen) Greenhouse Tech. Co., Ltd
Suite 403-404, Bld. No.25, Wanghai Road,
Software park II, Xiamen, China 361008
Tel: +86 592 5029000
Fax: +86 592 5029555