CMC


Product description:
Appearance: Sodium Carboxy Methyl Cellulose (CMC) is a whit to light yellow powder or granular product.
Specification:
Oil Drilling Grade CMC

Type Specification

CMC-HV

CMC-LV





Viscometer dial reading at 600r/min

In distilled water

≥30

≤90

In 40g/L salt water

≥30

≤90

In saturated salt water

≥30

≤90

Fluid Loss(ml)




Conforms to API Spec. 13A test methods

≤10.0

≤10.0

PH

6.5-8.0

7.0-9.0

Purity

≥95.0

≥80.0

Appearance

Free-flowing white or yellowish powder without lumps

Property
Type

Apparent Viscosity

Filtrate volume, in seawater/KCL

Moisture

D.S.

ZZLHV

PAC-HV

Min. 50

Max. 23 ml

Max. 10

Min. 0.9

ZZLLV

PAC-LV

Max. 40

Max. 16 ml

Max. 10

Min. 0.9
Textile Grade CMC/Coating Grade CMC

1% Soln, viscosity(mpa.s)

400-600

≥1000

1000-1500

1500-2000

2000-2500

2500-3000

≥3000

Chlorides,cl%

≤3.0

≤1.8

Degree of substitution

≥1.20

≥1.10

Loss on drying

≤10.0

PH value

6.5-8.5

Paper Making Grade CMC

Physical Form

White Powder

Purity

95%

Viscosity 4% soln. Mpa.s

16-2000

Loss on drying

≤10%

PH Value

6.5-8.0

Degree of substitution

≥0.8
Ceramic Grade CMC

Item

Viscosity mPa.s(2%)

D.S≥

Purity% ≥

Loss after Dry% ≤

PH

Ceramic Body

100-500

0.7

80

10

6.5-8.0

600-800

900-1200

Ceramic Glaze

400-800

0.8

90

900-1500

900-1300

1500-2000

400-800

0.9

95

500-1000

0.95

1000-1500
Application
1.CMC for Oil Drilling: It can increase viscosity and reduce water loss in drilling fluid, cementing fluid and fracturing fluid. It also plays the role of protecting the wall of well, taking drilling trifles, protecting drilling bit, preventing mud loss and increasing drilling rate.
*Usage: add to mud directly or glue solution preparation.
*Addition: 0.1-0.3% in fresh water mud; 0.5-0.8% in salt water mud.
2.CMC Ceramic Grade: It's used for ceramic embryo, glazing pulp and colored glaze in ceramic industry.
*Addition:0.03%-0.2% used in ceramic embryo; 0.05-0.2% used in glazing pulp; 1.4-4.0% used in colored glaze.
3.CMC Paper Grade:

It's

used in making pulp so as to improve the retention rate and increase humidity and strength; when used in surface sizing, CMC can improve internal adhesion, decrease printing dust and enhance printing quality as molding reagent. In paper coating, CMC also helps the dispersion and fluidity of paint, improves appearance of paper and smoothness, upgrades optical performance and printing adaptability.
*Addition: 0.3-1.5%.
4.CMC Construction Grade
: Used in construction to improve water retention and strength.
5.
CMC for other industries
:As coagulant, water retaining, thickener and binder, it's also used in paint, carpet gum, mosquito coil incense, tobacco, electric welding, textile, battery, printing and others.
Company information: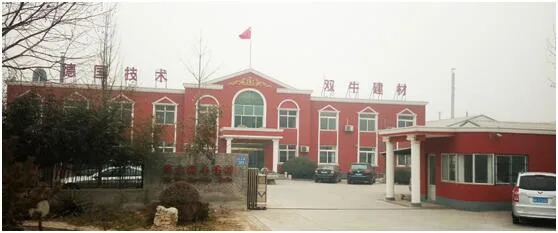 Hebei Shuangniu building materials cellulose Co., Ltd. (formerly Shijiazhuang Shuangniu building materials Co., Ltd.), locatesin Jinzhou, Hebei, one of the birthplace of cellulose ether in china. It is a high-tech enterprise engaged in scientific research, production and sales of hydroxypropyl methyl cellulose. It has its own right for export. Over the years, we uphold the strategic thought of safety, rational and sustainable development; We adhere to innovation, integrity and pragmatic. With profound cultural background and strong technological strength; on product quality and customer requirements ,we are willing to achieve mutual benefit new and old friends across the world.

Our company was founded in 2006, with a total investment of 120 million CNY, coversing an area of 160 acres. There are staff of 300.the main product of cellulose ether annual output reaches 20000 tons. We bring German advanced production technology to achieve full automation., can meet a variety of production methods, and improve the rigorous testing process, stable and reliable product quality, the indicators are through the national chemical building materials test center monitoring, all conforms to the national standard. The main products are Shhuangniu brand, red Shuangniu brand, Xerox brand methyl cellulose, hydroxypropyl methyl cellulose, redispersible emulsion powder, mortar water retaining agent, Extrusion board, calcium methyl and other products.

As a trustworthy partner, double ox building materials is committed to providing high quality products to help customers achieve greater success. We will be scientific management and pragmatic attitude, to play the overall advantages of modern enterprises, and the organic combination of economic development, environmental protection and social responsibility of the three pillars of improvement, development innovation, first-class products and services with the friends from all walks of life to establish extensive cooperation, shared interests, common development, achieve the harmonious Chinese dream.