High efficiency concrete brick making machine / automatic paver block making machine working video on youtube https://youtu.be/xmNJQSHGjrQ
1.QT4-15 big automatic paving brick machine advantage:
1. QT4-15 is a fully automatic PLC with hydraulic system brick machineThis machine no need worker control,
easy operation.
Adopting advanced world famous brand components in pneumatic parts ,electric parts and operation parts.
2. QT4-15 could produce different size and shape hollow block, solid block, interlocking brick, paving brick,
color face paver and curbstones.
3. QT4-15 is classical big machine, it could work durable and stably
4. QT4-15 has bigger vibration force and better hydraulic system, it could produce faster and better quality blocks.
5. Big production capacity. Max. production capacity: 185CBM standard hollow blocks per 8 hours(9000pcs hollow blocks).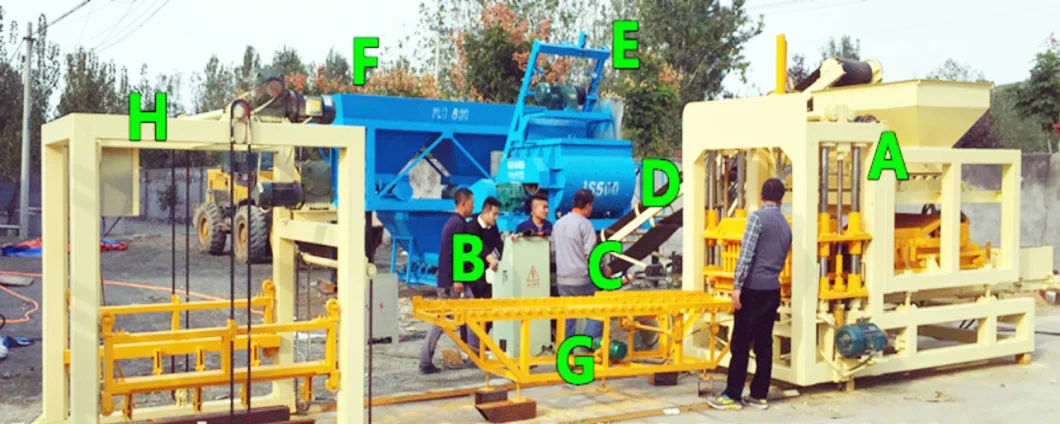 QT4-15 automatic paving brick production line introduce:
A
QT4-15 Host brick machine
a. Automatic pallet system
b. Automatic material feeding system
B
B belong to A,
It is QT4-15 brick machine full automatic PLC controller
C
C belong to A,
It is QT4-15 brick machine hydraulic station
D
8m conveyor
E
JS500 Mixer-25.1kw/h; Production capacity: 25-30cbm/h
F
Block receiver-3m
G
Stacker-two pallets a time stacker
H
Hydraulic manual trolley-2 sets
Optional
2 tons wheel loader; 3 tons forklift
Optional
50 tons cement silo--Detachable
Cement screw conveyor--8m
Batching machine--2 warehouse PLD800
Color feeder system
(Optional)
QT4-15 Color feeder machine--Automatic hydraulic machine
Color mixer--1.2m; 7.5kw
3m conveyor
Note:
.1. All QT4-15 block machines need to load into 4*40HQ container.
.2. QT4-15 block machine also need 1500pcs fiber pallet when produce blocks.
.3. QT4-15 mold changeable.
.4. All matching machines for QT4-15 are all optional
Main parameters for QT4-15 concrete block making machine
| | |
| --- | --- |
| Molding cycle | 15s |
| Vibration frequency | 4000-4800hz |
| Vibration force | 70kn |
| Rated pressure | 21mpa |
| Host brick machine size | 3650(L)×2450(W)×2950(H)mm |
| Net Weight | 4600kg |
| Pallet size | 960-550-25mm |
| | |
The quality for main parts of QT4-15 Automatic Hollow Block Machine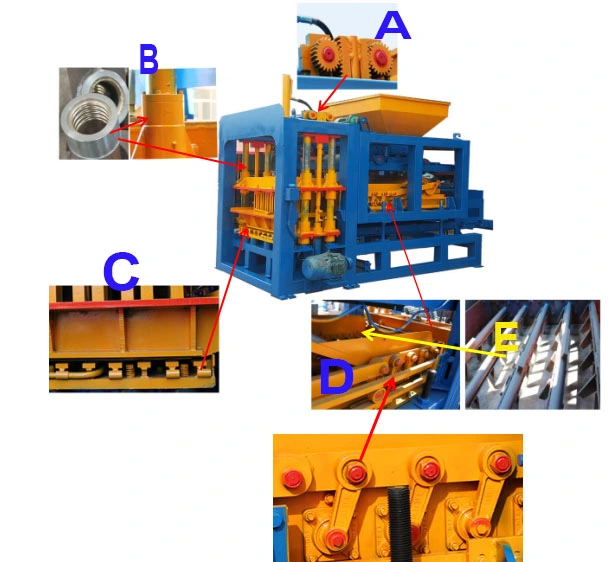 A: This new design could ensure head mold could up and down in level, even if meet small sand and stones, protect machine.
B:The guid posts are chrome-plating treatment,and all outer cast of guid posts are made by high quality copper.These keep parts
of the machine smoothly use long time .
C: Head mold famous brand thicker steel material, it can use longer time.Axle vibration box, it could supply bigger vibration force,make
blocks better quality and save cement.
D/E: Unique material preading machine with special arch rod to force steel forks in big force.Make the material preading fast and evenly.
And all steel on the arch rod and forks aremade by hot treatment to keep long time use
QT4-15 different block production capacity introduction:
| | | | |
| --- | --- | --- | --- |
| Block type | Brick size | Pcs/mold | Product capacity |
| Hollow block | 400-200-200mm | 4pcs | 7680 pcs/8 hours |
| Holland block | 200-100-60mm | 14pcs | 26880 pcs/8 hours |
| Zig Zag brick | 225-112.5-60mm | 10pcs | 19200 pcs/8 hours |
| I shape paver | 200-160-60mm | 12pcs | 23040 pcs/8 hours |
QT4-15 block factory all investment items solution:
Total Power Consumption(A,B,C,D,E,F,G)
58.8 kw/h; 470.4 kw/8 hours
Max. Material Consumption Per 8 Hours
a. Concrete: 10% cement, 30% sand; 60% stone powder
b. 400-200-200mm; 2 holes hollow block
Water: about 2995 kgs
Cement: about 14676 kgs
Sand: about 44028 kgs
Stone powder: about 88061 kgs
Factory total size
At least 1400 square meters, at least 4 rooms
Workers
5-6 workers in factory
Machine parts information
Motor: Shanbo brand (Chinese famous brand)
PLC: Vigor from Taiwan
Inductor and Switch: CHNT and Schnelder
Warranty
One year
Company view: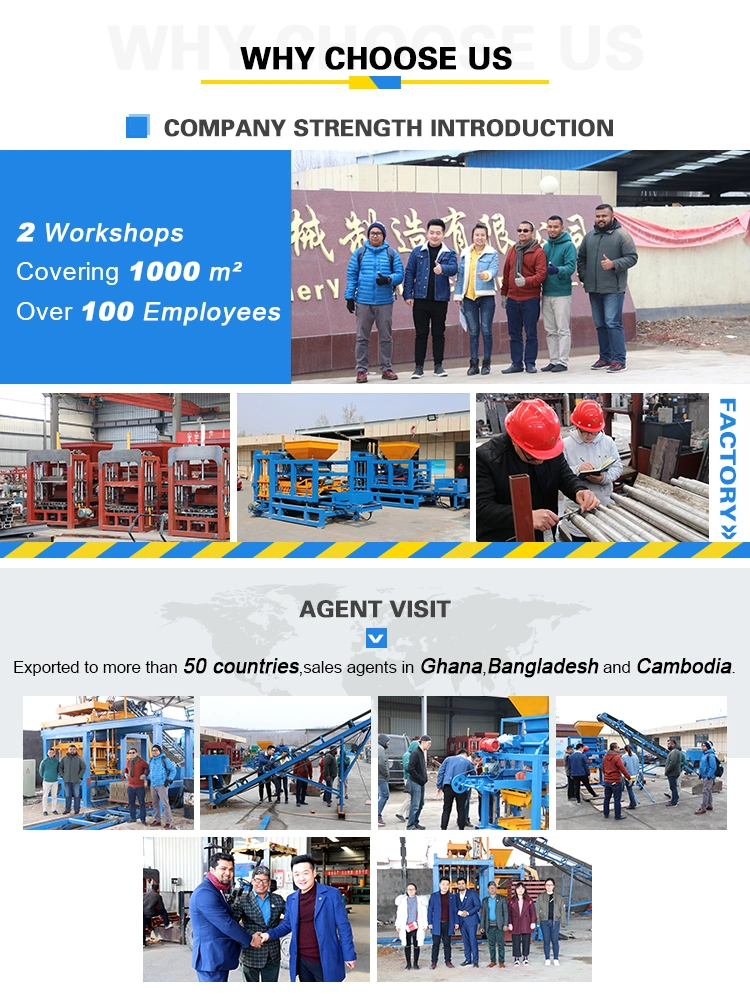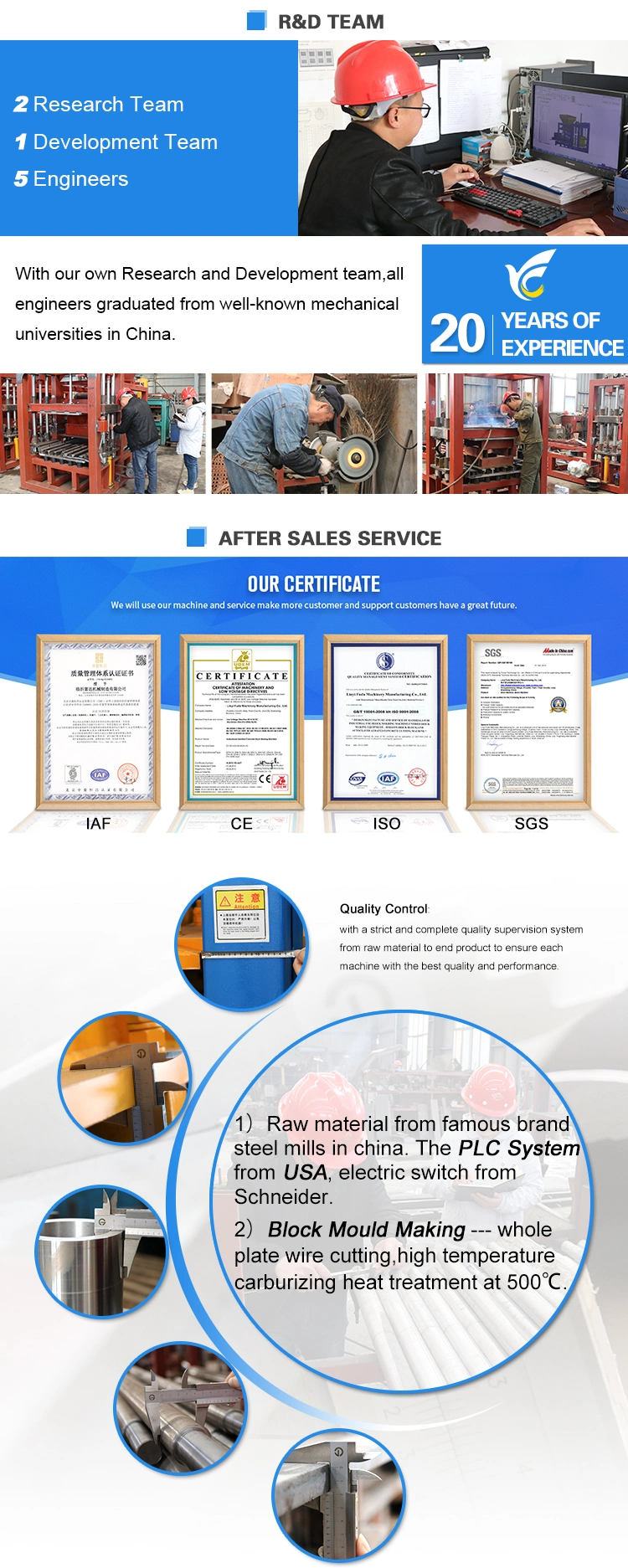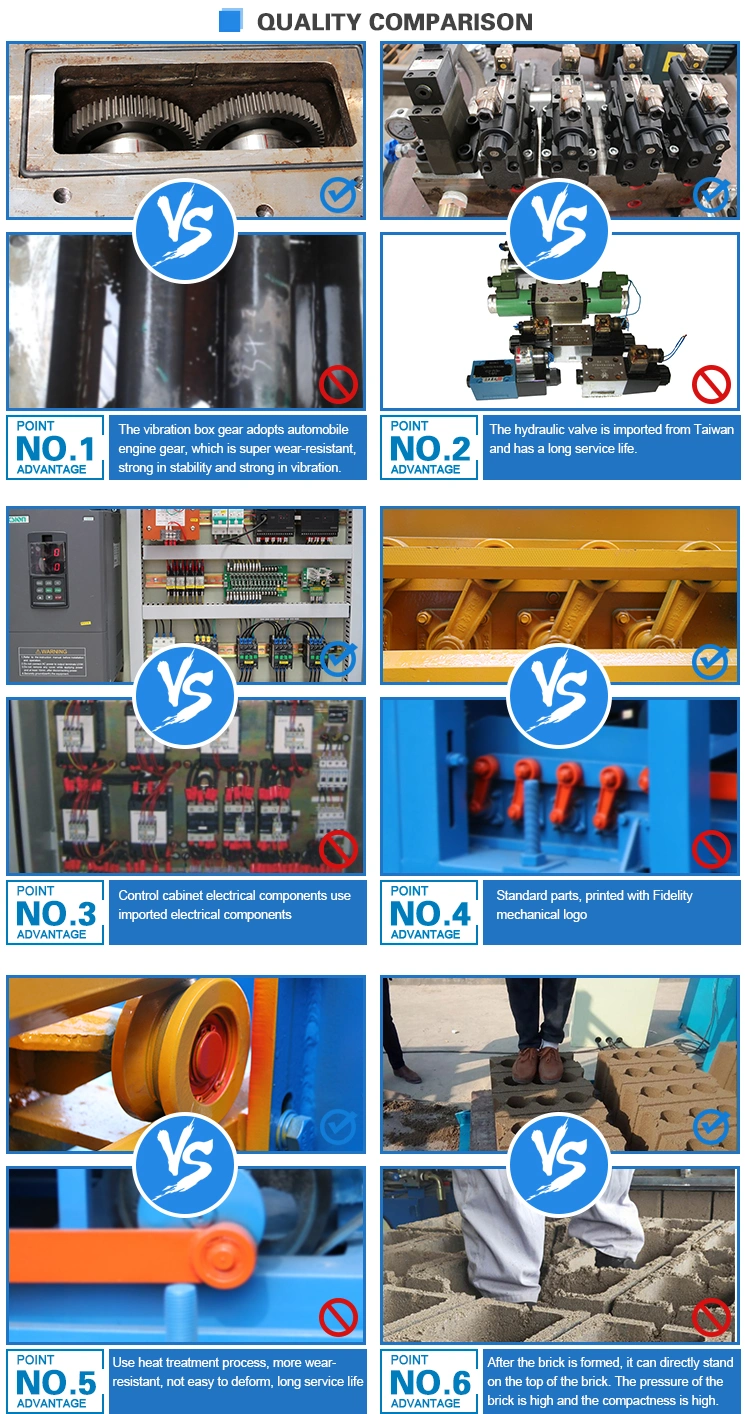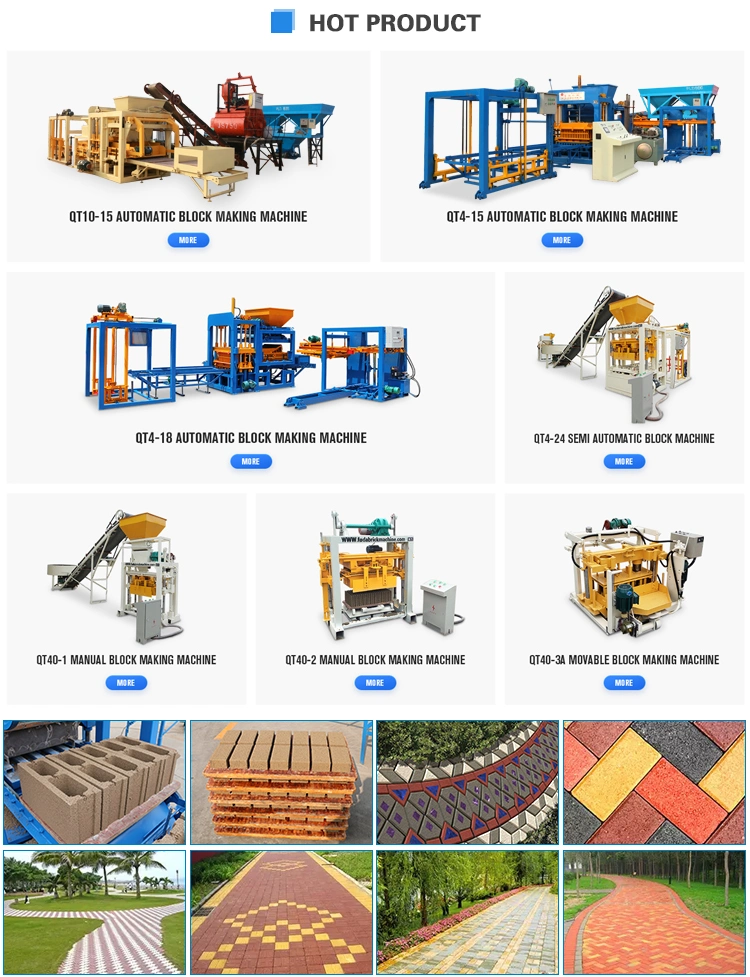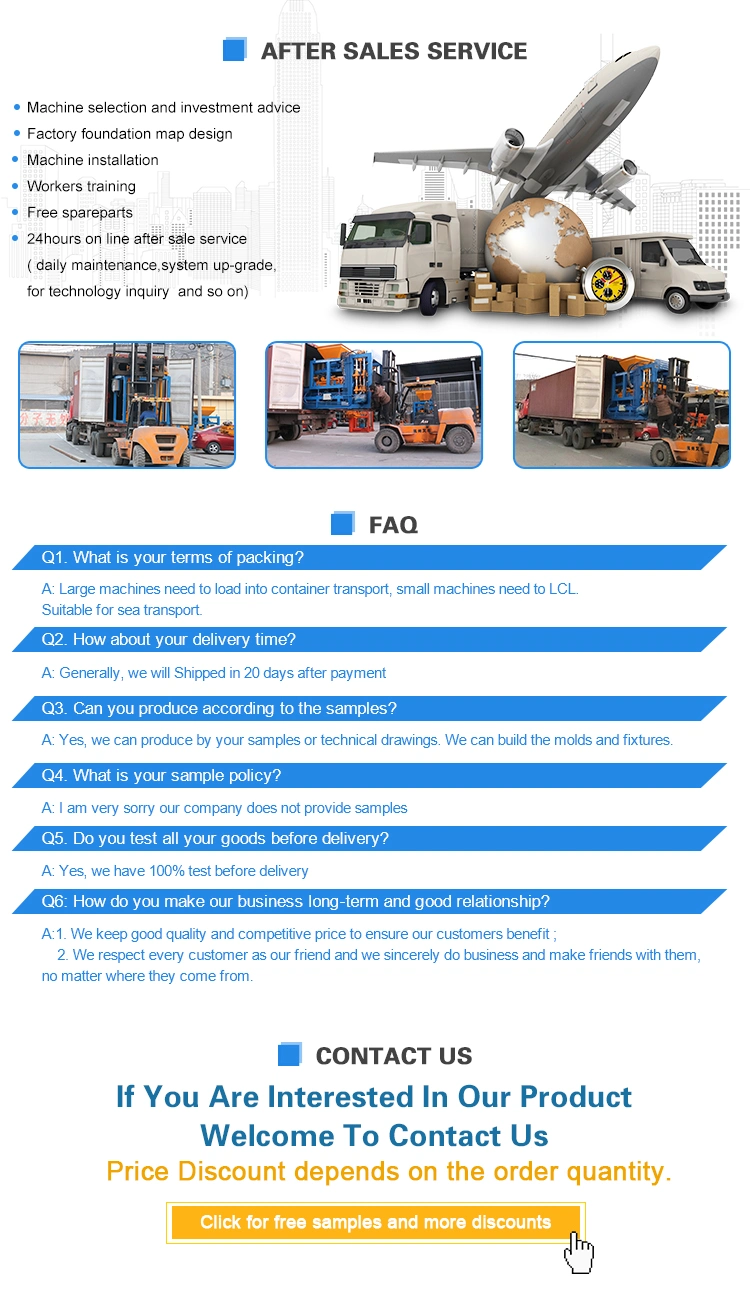 Linyi Fuda Machinery Manufacturing Co.,Ltd. is aprofessionalbrick machine manufacturer with more than 20years history.
Linyi Yingcheng International Trade Co.,Ltd. is a sub-company of Fuda Machinery is responsible for export and overseas brick machine service.
Fuda Machinery is located in Linyi City, near Qingdao port China.Our brick machines had been export to more than 60 different countries such
as south africa,kenya,,saudi arabic,pakestan,turkey,jordan,malysia,philipine,mideast countries and so on. And get good feedbacks because of the
qualityand good service. Our main products are brick machines , automatic brick machine,semi-Automatic block molding machine, manual block machine,
movable brick machine,hydraulic brick machine, and iger stone paver brick machine,paver machine ,crusher accessories, steel moulding ,(our machine
can produce free-baking bricks :hollow block , clay lege brick ,holand brick,clay brick ,cement block ,soil brick ,curb stone , solid brick ,pavement brick ,
colored paver brick ,fly ash brick ,concrete brick and gympsum brick,all customized brick designs ok )