unitized hot asphalt regeneration patcher pothole machine road repair and maintenance
cnmc5140 Multi-functional road maintenance equipment ,quite powerful with 3main functions integrated in one vehicle equipmentIt is one comprehensive maintenance vehicle which can realize various types of maintenance works for multiple occasions and multiple roads conditions ; it has high curing strength, low cost, fast and flexible operation, high safety and high efficiency, and can be operated 24 hours a day. It is widely used in the maintenance and construction of highways, municipal roads, national and provincial trunk roads, rural roads, factories road and other roads conditions.

Product image :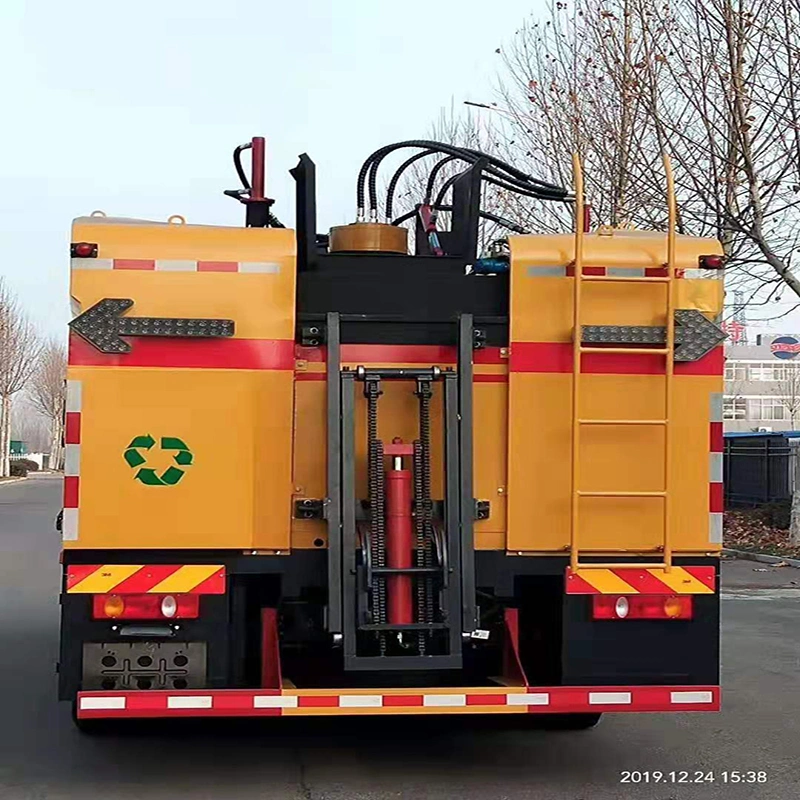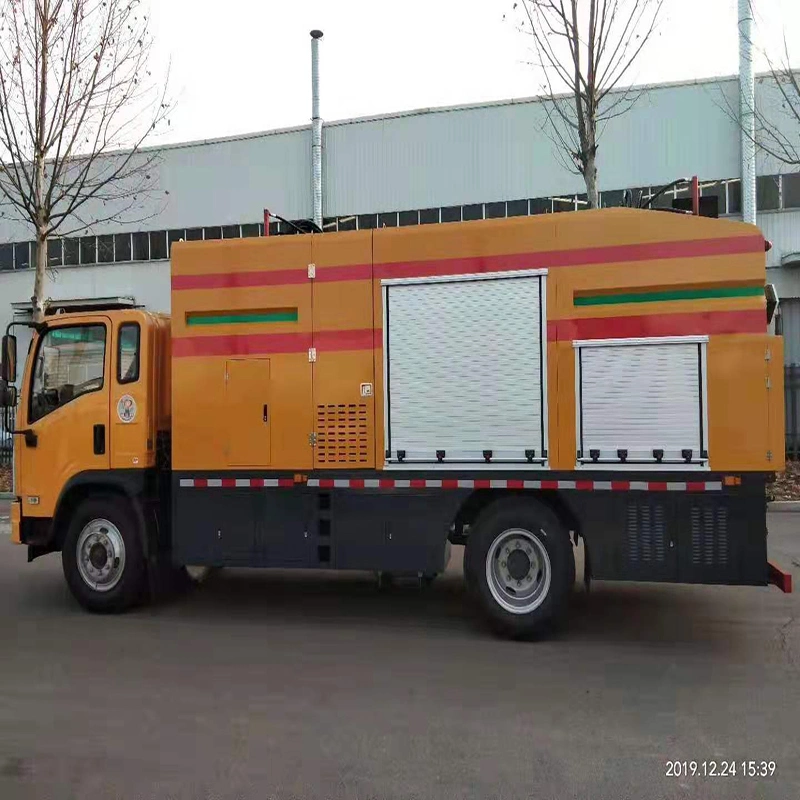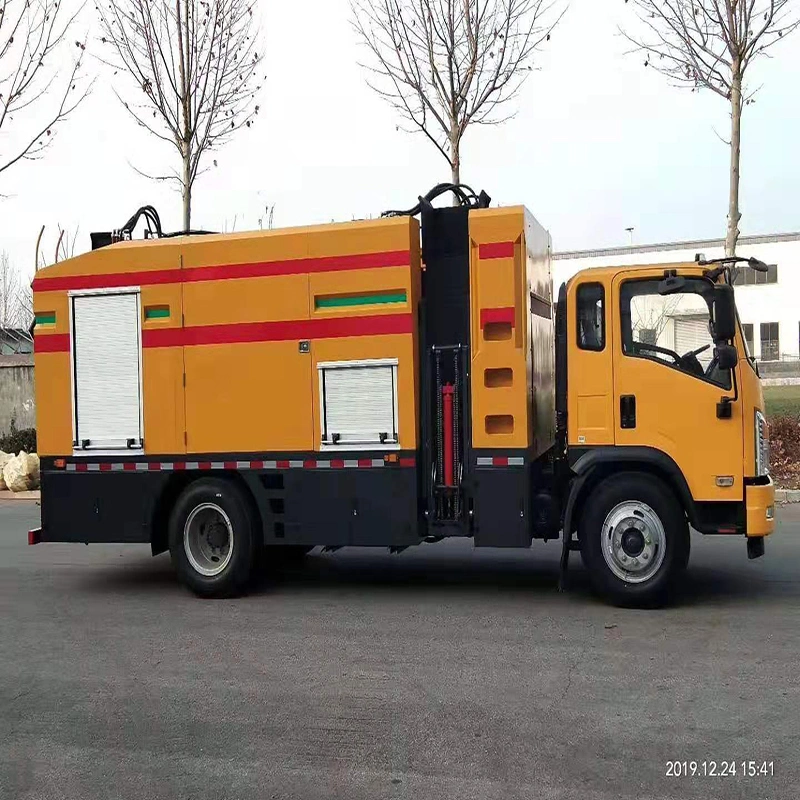 Specification:

Category

Item

Main parameter

Chassis system





Chassis

Dongfeng

Chassis engine power

1

18

kw

Chassis wheelbase

4400mm

Total weight

14000

kg

Top speed

88

km/h

Heating system

Heating system Agitator bin A thermal power

310kw

Heating system Agitator bin

B

thermal power

310kw

Asphalt spray system

Asphalt box capacity

800L

Asphalt box measuring box capacity

24L

Hand spray asphalt speed

8

0-

10

0L/min

Asphalt heating time

800

L/2-3h

Temperature control range

100-200 degrees Celsius

Dust removal system

Dust removal method

Water dust removal

Dust removal

driven

hydraulic motor

Dust removal capacity

1100m³/h

Recycled materials

bin system

stirring reactor number

Two

Single recycled

2000kg

Regenerative capacity

8

-1

3

T/h

Fuel consumption

4-6

L

/

T

Mixing form

dual hydraulic drive with forced reduction, vertical forced mixing

Discharge method

Tail discharge and side discharge

Material discharge temperature

100-200 degrees Celsius

Heating method

The burner is heated indirectly by a heat-resistant plate + hot air circulation heating

Mixing

can produce two different proportions of asphalt mixture at the same time

Loading system

Loading method

Single hydraulic cylinder lifting chain climbing type

Hopper capacity

230

kg

Hydraulic

system

system pressure

16Mp

Rated total flow of hydraulic system

200L/min

Emulsified Asphalt Spraying System

Asphalt Tank Capacity

1

3

0L

Spraying speed

10-

10

0L/min

High-pressure air self-cleaning pipeline

0.7Mpa
Product function introduction:
(1) It has a complete asphalt pavement disease treatment function, which can deal with a variety of diseases such as pits, cracks, bales, ruts, pitted surfaces, loose, waves, oil flooding, and edge.
(2) It has four functions: on-site production of new asphalt mixture, on-site thermal regeneration of asphalt pavement, asphalt spraying, and crack filling and cracking. It can also provide hydraulic power for other hydraulic devices.
(3) Various types of maintenance operations on multiple occasions and pavements can be achieved; high maintenance and repair intensity, low cost, fast, flexible, safe, and efficient operation, can be operated 24 hours, and can be widely used in highways, municipal roads, and national Provincial trunk roads, rural roads, plant areas and other road maintenance construction.
(4) With excellent thermal regeneration function, the recycling rate of the old asphalt pavement can reach 100%, and the waste and old asphalt material excavated from the pit can be regenerated 100% on site. It has larger output, higher efficiency, lower construction cost, outstanding energy saving and environmental protection performance.
(5) Use vertical mixing and indirect heating technology for thermal regeneration of old pavement to ensure that the asphalt does not burn or age during the regeneration of old materials.
(6) The recycling rate of waste and old materials is 100%. No new materials can be added to the old materials, and any proportion of new aggregates or hot asphalt can be added. Broken or milled pavement waste is directly added to the mixing bin without crushing. Convenient heat regeneration, high efficiency and energy saving.
(7) Adopt high-efficiency hot gas secondary utilization heating technology, high-efficiency dust removal technology, smokeless and dust-free, energy saving and environmental protection.
(8) It adopts full hydraulic drive and is equipped with a reducer for stable and reliable operation.
(9) Equipped with high-power hydraulic motor to ensure power reserve.
(10) Configure two 1-ton independent mixing silos.
(10-1) According to the size of the repair pit, the double silos can be discharged separately or simultaneously or the double silos can be continuously discharged to achieve the simultaneous gradation of two materials (the user can mix one silo according to the actual needs of the construction) Combine new materials, one warehouse mixes old materials; one warehouse can mix surface materials, one warehouse can mix bottom materials; one warehouse can mix conventional asphalt materials, and one warehouse can mix colored asphalt materials.
(10-2) If the repair pits are small, single bin work can be selected, which effectively saves fuel consumption.