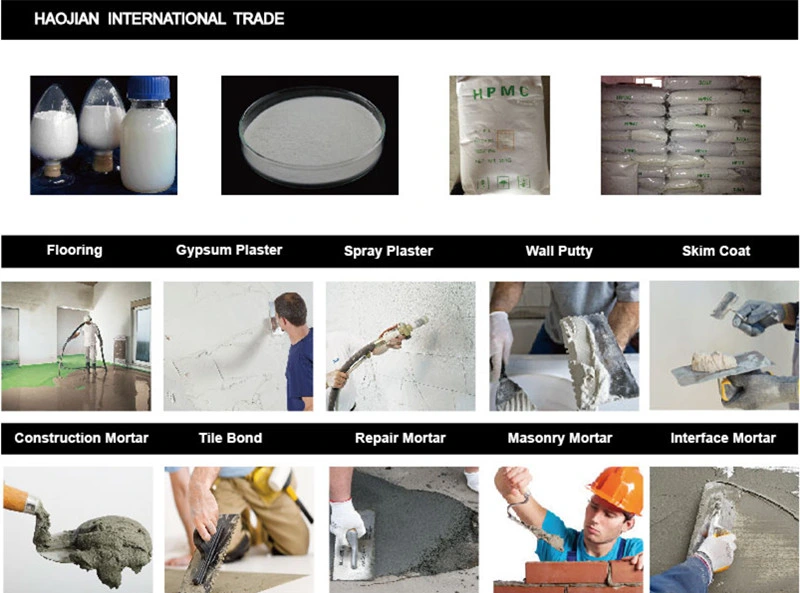 HPMC
Crack Filler Mortar Admixture
MHPC Hydroxypropyl Methyl Cellulose
1.0 Description
Hydroxy Propyl Methyl Cellulose ( HPMC )

CAS No.: 9004-65-3

1. water-soluble, non-ionic cellulose cellulose ether
2. odorless, tasteless, non-toxic, white powder
3. dissolved in cold water, forming a clear or slightly solution
4.properties of thickening, binding, dispersing, emulsifying, film-forming, suspension, adsorption, gel, surface activity, water retention and protective colloid.

This HPMC/MHPC Used in construction mortar crack resistance from HAOJIAN INT'L,has been tested
strictly. In the construction mortar, tile adhesive, tile fixing bond the dosage of HPMC is very low, but an important additive in the construction process,strength adhesive and flexible workability of mortar, improving the work efficiency.
CAS No.: 9004-65-3

2.0 Specifications
Appearance

White or off white powders

Carbonized Temperature

280-300ºC

Dry Loss, WT%

≤5

Methyl Content, WT%

28.0-30.0

Hydroxypropyl Content, WT%

4.0-12.0

Ph

(1% solution, 25ºC)

7.0±1.0

Gel Temperature ºC

58-65

Fineness, mesh

100
Viscosity (2% solution, 20ºC

,

mpa.s)

150000
3.0 Application Range
Gypsum Plasters Diamond Tile Adhesive Tile Bond Mortar Joint Fillers
Skim Coat Wall Putty Powder Crack Resistance Mortar Self-leveling Compounds
Exteriorl Wall Insulation System / External Insulation and Finish System

External Thermal Insulation Composite System

4.0 HPMC Properties

Increases the water retention of Crack Resistance Mortar
Improves thickening of mortar

Increases mouldability of mortar

Improves workability of exterior wall Diamond Tile Adhesive

5.0 Service

1. Professional Construction Grade Cellulose Ether Supplier
2. Construction Chemicals and Technology Solutions Provider
3. Free formulations for our construction crack resistance mortar with HPMC and VAE Powders

6.0 Package & Storage & Transportation

A. Standard Packing : in 25kg pp bags inner with pe bags
B. Big bags or other special packages as required
C. Store in cool and dry environment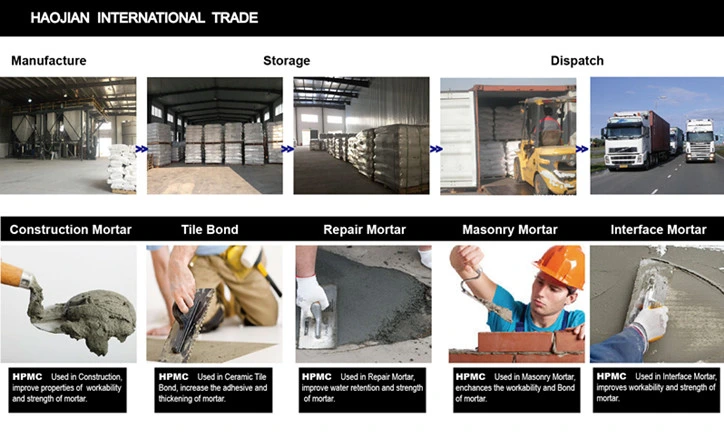 D. Shelf Life :12 months
E. Transport as non-danger goods
More details, pls contact me

SHANDONG HAOJIAN INTERNATIONAL TRADE CO., LTD.
CONTACE PERSON : Sally
MOBILE PHONE : 0086 18888367670